"The system worked the time I needed it to work." It's a testimonial of which we're proud.
For your security system to reliably protect you in an emergency—a fire, a break-in, extreme weather—it's essential that you choose one with the most reliable technology for communicating with the outside world.
The emergency signal that saved Benjamin's home and dogs was transmitted over Alarm.com's dedicated cellular connection: a secure, wireless connection linking his security panel to our cloud platform.
Because it doesn't piggyback on your home's broadband connection, it communicates reliably when you need it to—even if your phone line, cable, broadband, Wi-Fi and power are down.
Here's what makes a dedicated cellular connection an essential feature of a reliable security system.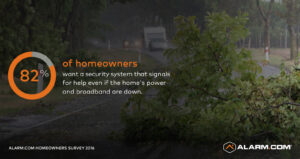 1: It's exclusive to your security system
Your safety should never compete for bandwidth with entertainment and other services. Alarm.com's cellular connection is reserved solely for your security system to communicate with Alarm.com's cloud. It's not shared with other services and it doesn't depend on your home's networking and WiFi router.
2: It can't be physically cut
The most sophisticated broadband or cable-connected security systems can be defeated in seconds on the outside of the home, using a pair of scissors. A cellular connection has no cable to cut. Should an intruder attack the security panel itself, Alarm.com's patented Crash and Smash technology will still signal your monitoring station for help.
3: It works even when the power's out.
Even if your home loses power, your Alarm.com system will continue to communicate. Our security panels feature 24-hour battery backup so you'll stay secure until the electricity comes back on. You'll still receive images and alerts
https://www.alarm.com/US/Systems-Integrations?home=1
Article by alarm.com/resources/dedicated-cellular-connection